Description
Custom Made Lantern Wall Sconce
This sconce has been fashioned from the original designs used by miners in the late 1850s and early 19th century. Influenced by the Davy Lamp, H.J. Nick created this piece in the same traditional methods as the antique specimens after which it was modeled. Our Master Blacksmiths finish every custom wrought iron lighting piece with a patina finish; where oxides are hand applied at over 1000 degrees in order to create a finish that will never fade, chip or crack. Our master blacksmiths coal fire, hand forge and anvil hammer solid iron into the sturdy, complex shapes that make up this design.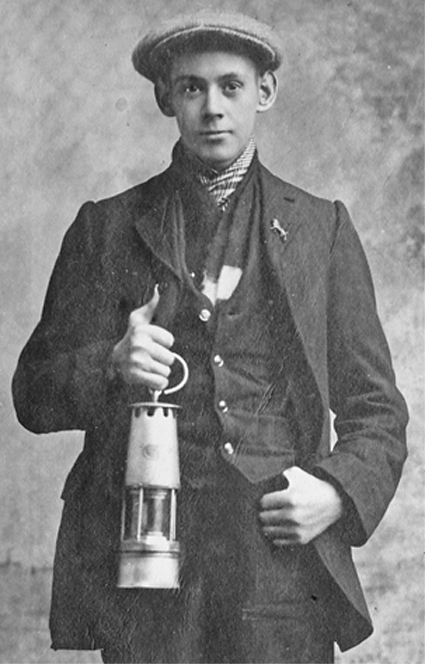 William Davenport taken after his recovery in 1911
Fashioned From History
Shown here with a seeded glass diffuser, giving this piece its own signature theme and a twinkling glow, that closely resembles the original Davy Lamps with its "flame resistant" screen. This was used so that the air outside can pass through the mesh freely enough to support the fire inside, and the holes were small enough that anything outside the mesh would not catch on fire.
William Davenport holds a Protector Garforth GR6S Lantern above, the second edition of the davy lamp. Which is considered to be the safest lantern before the electrical version in the late 19th century. William Davenport was one of the three survivors of the Pretoria Pit Disaster, a Mine explosion in northwest England, where gasses had built up after a ceiling collapse; which paved the way for mining safety and regulations.